Back to news
Summer vacation is coming to an end
2/2/2017 3:11:41 PM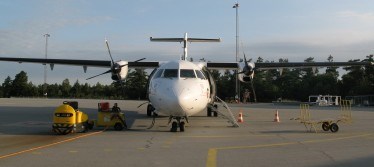 Although the weather these days is at its best hand, most of us are now back to work. Therefore Danish Air Transport is also back on the full program on Monday, 17/8. That means many more flights.
Mon -Thursday 06:15, 08:00, 09:35, 14:05, 17:00, 20:30
Friday 06:15, 08:00, 14:05, 17:00, 19:00, 20:30
Saturday 08:00, 20:30
Sunday 08:00, 14:05, 20:30
Remember that there is full interline agreement with both SAS and Finnair. This means you can check your luggage through to the final destination and obtain boarding card for the whole journey when you check-in in Karup.
We hope you had a good holiday and look forward to seeing you at the airport.